We bring together a strong portfolio of capabilities, assets and experience.
Institutional Support   
for Educators
Developing the strategy and execution plan for setting up higher education institutions including academics, outreach and admissions
Setting up governance, partnerships and fundraising strategies
Measuring success parameters of existing institutions and transforming their strategies and processes to achieve enhanced outcomes
Leadership Development for

Corporates 
Developing and executing high-quality leadership development programs
Incubating 21st century workplace skills like critical thinking, problem solving, communication, team-work and leadership
Creating interventions focused on women executives, high potential individuals and senior leadership
Institution Building & Transformation
We believe institution building is an evolutionary process. We support clients through the growth stages of an institution, employing years of experience in the industry, strong faculty and institutional partnerships, our unique time-tested frameworks and a high-quality execution team. Our core pillars focus on governance, faculty, curriculum, brand and outreach of the institution to help clients achieve their distinctive vision.
Years of experience in the higher education sector
Strong relationship with academic and public institutions worldwide
Approach that is structured around a proven framework
Partnership model that focuses on the success of the institution
Creating a multi-pronged strategy for the academic institutions with targeted actions for key areas that include research, communication, academics, placements and fundraising
Setting up a project management office to successfully execute the strategy
Measuring progress and re-working strategies to achieve desired outcome
Exploring academic partnerships with international and national institutions
Planning and driving student marketing, outreach and admission programs, online media and PR strategies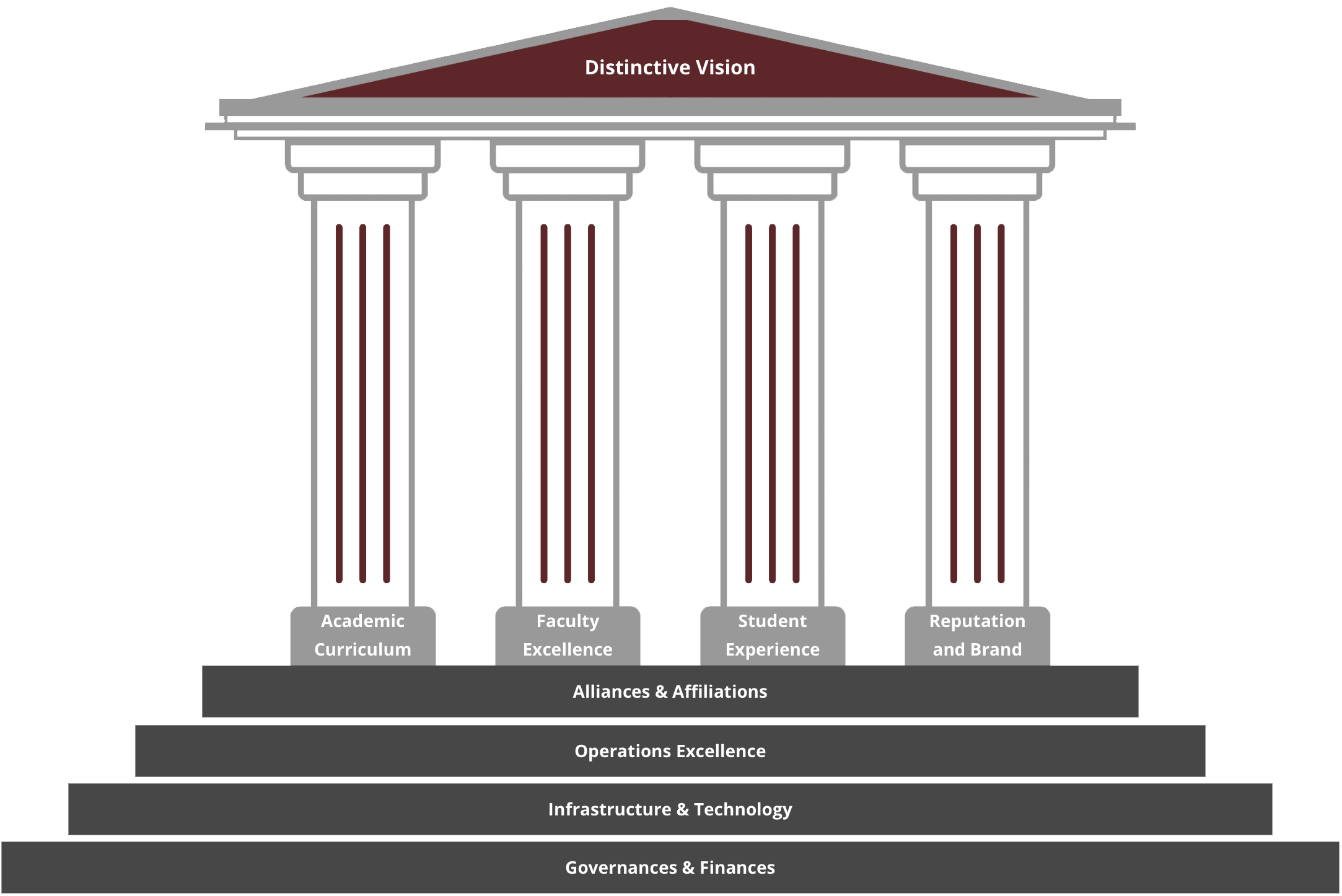 We understand what it takes to be a successful leader. With our extensive experience in capacity building and access to top-notch facilitators and business coaches, we help clients achieve their leadership goals. We provide personalized, experiential and industry-relevant training programs and workshops for corporations and teams that track learning impact using various diagnostics and assessments. Our programs are designed and developed by leading practitioners, who provide continuous and comprehensive feedback to ensure holistic development of an individual.
DIAGNOSTIC DRIVEN
Pre and post assessments to track impact; 
multiple assessments to determine different aspects of leadership
INDUSTRY RELEVANT
Designed with help of industry veterans; i
ndustry guest speaker sessions;
multi-disciplinary perspectives
PERSONALIZED
One-on-one coaching; focus on individual improvement areas; engaged mentors and stakeholders to help resolve company-specific issues
EXPERIENTIAL
More practice, less theory; tips and tricks to use after sessions; immediate opportunity to apply learnings and deliver workplace impact 
BLENDED
Mix of online and offline learning methodologies; classroom training, in-person and remote coaching, webinars, online reference library and nudges
Our Office
B28, Qutab Institutional Area
Katwaria Sarai, New Delhi
Delhi 110016
Group Head Office
B117, Block B
Sector 2, Noida
Uttar Pradesh 201301
Contact Us
+91 120 4010 999
+91 11 4327 9999
info@9dot9.education